Digital Signature
Side-by-Side Manifest Maker is digitally signed. Digital signature assures you that the program is original and has not been modified. We use a digital signing certificate to sign Manifest Maker. This certificate is issued by a Certificate Authority. Certificate Authority is a third party trusted to issue verified certificates.
As you display Manifest Maker's properties in Windows Explorer, you will notice that it contains a Digital Signatures tab:
Click the Maze Computer Communications, Inc. signature then click Details to see more information on this signature. If the signature is intact and the trust list can be traced to a trusted root authority the dialog looks like this: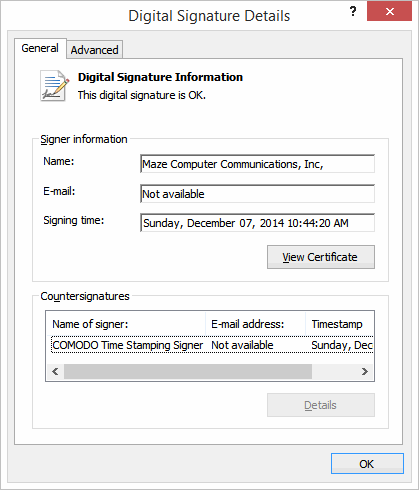 Click the View Certificate button to see the details of this certificate.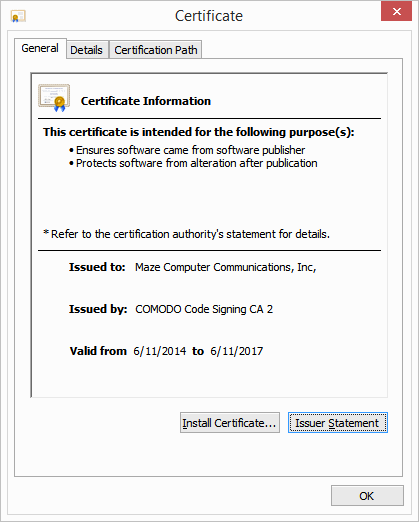 As you can see in this illustration, this certificate was issued by Comodo Code Signing CA to Maze Computer Communications, Inc.. Switch to the Certification Path page to see the chain of certificates: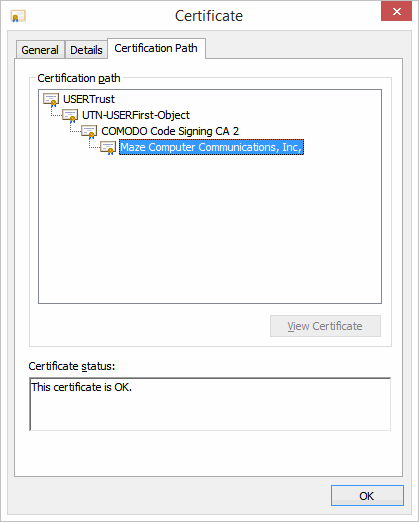 What if the signature or certificate appear invalid?
Your computer may display errors or warnings when you display Manifest Maker properties in Windows Explorer or when you run the program. First reinstall Manifest Maker from freshly downloaded installation file. You may also need to update the list of root certificates.
---
Read more...